THE ESCONDIDO EDUCATION FOUNDATION FUNDS OVER

$35,000

IN GRANTS
GRANT AWARDS
2018-2019
Classroom Projects
"Edison Robots"- Casey Vogel
"Classroom Community & Comfort"- Mallory Resendiz
"Every Voice Matters"- Jennifer Moon
"Can You Hear Me Now?" – Larissa Parrott
"Building Future Programmers with Coding" – Daina Putnam
"Mindfulness in the Classroom" – Sandra Gonzalez
"Flexible Seating Classrooms" – Tracy Middleton
Team Projects
"STEAM Robotics Challenges" – Kim Buhler
"Hydroponic Indoor Garden" – Melody Crook
"Kindergarten Gardeners" – Laura Reyes
"Sandbox of Unlimited Learning Potential" – Richard Downer, Cynthia Sabbs-Hall, Mayra Davalos, Noah Barringer
"Mind Magnifying Microphones" – Guy James, Hannah Booker, Karol Roberts
"STREAM in the Sun" – Zoe Carpenter, Vanessa Miramontes-Solorzano
"Mural Project & PBIS Pride" – Veronica Jeanette Gonzalez
"Leveled Libraries" – Linda Manessis, Jacquie Mushet, Lisa Shibata
"Bernardo Robotics" – Greg Cook, David Boyce
"Performing Arts Revival" – Patty Anderson, Dena Moore
School-wide Projects
"Makerspace Clubs, Carts and Family Nights" – Tanya Hunsinger, Gladys Zavala
"What's Your Story?" – Elizabeth Rodriguez
The hydroponic garden project at Lincoln Elementary has caught the attention of the public.  Students and teachers from that school were featured on KUSI in December, 2018.  The following are comments from students in Mrs. Crook's class:
" The reason why I like the Hydroponic garden is that you can learn a different way to plant the plants. You also get to water the plants, grow them. move them around, and test the ph level to make them all grown." Jonathan

"I like the hydroponic garden because it is fun watering, planting, water testing, and harvesting the plants. I was happy about the garden because when Thursday comes kids can eat the food we grew." Juan

"I really like the hydroponic garden because I get to experience something I  haven't done before. It is cool because I have never been in a school with a garden inside of a classroom." Stephanie

"The hydroponic garden is fun and exciting. I get to work in the garden and harvesting lettuce is my favorite part. Also, I get to work in the garden for three days and not be at home." Angel
HOW DOES THE

EEF

RAISE MONEY?
The Escondido Education Foundation raises money by writing grants (thank you Current Wisdom Foundation), holding fundraisers, soliciting funds from the community (thank you Kiwanis and Route 78 Rotary), individual donations, and Many Hands (thank you EUSD employees)!
We recently held our 4th annual "Fall In Love With Escondido Schools" at the Elks Lodge in Escondido. Besides having yummy tacos and loads of fun, the EEF offered silent and live auction items for our guests to bid on. We honored Connie Blackburn, a recently retired kindergarten teacher from Central Elementary, for her love and dedication to the students in the EUSD. Paulette Donnellon was also honored for her dedication to the children in the EUSD. The following biography was written by Leila Sackfield, high-lighting Paulette's career.
The Education Foundation recently honored Paulette Donnellon at their Fall in Love with Escondido School's event held in February.
Paulette has been a part of the fabric of the Escondido Community for many years.
She attended school right here in Escondido where she was a proud Glen View Gator, as well as a Hidden Valley Raider and an Orange Glen High School Patriot. Some of her favorite memories of her own education included her experiences with the district's music programs. She fondly remembers being a member of both the Hidden Valley Middle School and Orange Glen High School band.
Her education in Escondido led her to a life of service, which began when she joined the US Army. She served our country in that capacity for nine years, including a deployment during Desert Storm.
She is married to John Donnellon a retired Escondido Police officer and small business owner. Together they have two sons, one of whom is currently working on obtaining his science credential so that he too can begin a life of service as a high school science teacher.
Paulette's children also attended school here in Escondido and Paulette was an active mom, heavily involved at her Alma Mater, Orange Glen, as member of the booster club. Her love for our schools began as a child and she continues to support not only the EUSD community but also the entire county of San Diego.
Paulette's love for education led her an expansive career of more than 20 years working with technology in Education. She is passionate about technology and has a strong desire to ensure that all kids have the opportunity to create and innovate. She found a way to integrate her personal passion into a highly successful career. This career led her to her current job, which she refers to as her "dream Job", working now for the Lego Education division as an enterprise account manager. This job allows her to bring playful learning experiences and teaching opportunities to teachers and ultimately students across the country.
Most recently, In June of 2016, Paulette Donnellon was elected to the San Diego County Office of Education Board of Trustees representing District 4, which includes a large portion of the county stretching from Vista to the eastern county line and from Lakeside to the northern boundary.
Formerly, Paulette served on the Escondido Union School District Board of Education (2012-2016).
Paulette was invited to join the Escondido Education Foundation in 2009. She became Vice President in 2010 and President of the Foundation in 2012. As a member of the foundation, she assisted with planning events and supporting the raising of funds to support innovative learning opportunities for the students of the Escondido Union School District.
It is easy to see why the Escondido Education Foundation, which also supports, music, technology and innovation, chose Paulette for this recognition. Her dedication to those initiatives along with her service to our country, as a member of the armed forces, her service to our District and County as a member of the board of trustees and her service to the Education Foundation, makes Paulette the perfect choice as one of this years' Escondido Education Foundation's community honorees.
WHY JOIN THE EEF?
"I was inspired to join EEF when I attended the Gala in 2018.  I love the fact these wonderful individuals support our kiddos by giving grants to teachers for project based learning.  We need more learning by doing and that is what is happening in our EUSD community.  Our kiddos are inspired to learn and keep learning."  Gail Gousha
JOIN THE EEF TODAY TO HELP US GIVE BACK.

THE EEF GETS OUT IN THE SCHOOLS!
REIDY CREEK LEADERSHIP DAY
On Feb. 28, 2019, I had the pleasure of attending the Reidy Creek Leadership Day. We learned about the 7 Habits of Reidy Creek Coyotes. They are: 1) Be Proactive, 2) Begin With the End in Mind, 3) Put First Things First, 4) Think Win Win, 5) Seek First to Understand Then to Be Understood, 6) Synergize, and 7) Sharpen the Saw. They recently added number 8) Find Your Voice.
The leadership exhibited throughout the morning showed students who are empowered and displayed responsibility, integrity, and genuine pride and caring for each other and their school. The morning was filled with music, small group tours led by students, and presentations by students, parents and the principal. Several community members, district employees, and parents were in attendance and participated. Every student I met displayed leadership, confidence and an understanding of the importance of working together. I am looking forward to next years Leadership Day.
Thank you, Reidy Creek, for all your hard work.
Pam Putnicki
Retired Teacher
Rose Elementary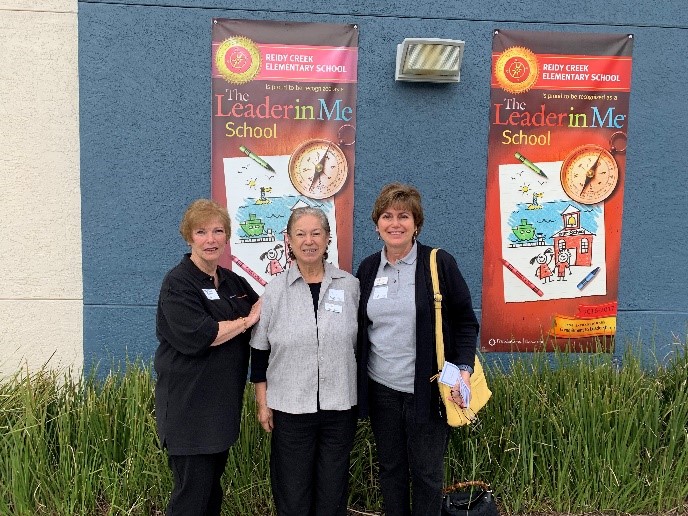 A passion for both literacy and addressing the needs of a district where 79% of students qualify for free lunch inspired Tanya Turek, school library technician at Conway Elementary, to partner with Nathan Boelhauf, wood shop teacher at Escondido Union High school. Together, they (and Mr. Boelhauf's students) worked to bring 18 Little Free Libraries to each elementary campus in the Escondido Union School District. Little Free Libraries are house-like constructions that sit on a post, usually cemented into the ground in front of homes and businesses all around the world. Their motto, which can be seen on every plaque on official Little Free Libraries is, "Take a book, leave a book." A visit to their website (littlefreelibrary.org) will show you a map with all the registered Little Free Libraries and their locations, including ours. Through a grant to Ms. Turek and Mr. Boelhauf, the Escondido Education Foundation made it possible to purchase the plaques and register all 18 Little Free Libraries. A grant from the Current Wisdom Foundation allowed Ms. Turek to purchase books for adults, in English and Spanish, to seed the Little Free Libraries, giving children the invaluable experience of seeing adults reading (not on a screen) in the home.
Here are comments from kids about the Little Free Libraries:
"When I open the door to the Little Free Library and take a book, I feel like I open my brain to new planet." Sophie, Second Grade

"Our Little Free Library is fun and cool and amazing because you learn things from the books. And you can keep the books!" Deylany, Grade 3

"I like our Little Free Library because it helps me read more." Guadalupe, Grade 2
EEF would like to help raise funds so the hydroponic gardeners at Lincoln can take a field trip to the REAL hydroponic gardens at Solutions for Change. Our mission statement does not allow the EEF to fund field trips, but we can act as a conduit for your donation to go to Mrs. Crook so she can order buses! If you would like to donate money toward getting the Lincoln students to the hydroponic gardens, simply send your check to:
Escondido Education Foundation
P.O. Box 461690
Escondido CA 92046
In the memo line, put "field trip" and we will make sure Mrs. Crook gets the funds.
DONATE ONLINE. ITS EASY AND SECURE.

A SPECIAL THANK YOU TO OUR DONORS
We would like to gratefully share a copy of the "Heartfelt Thanks To Our Donors" list for our annual fundraiser, "Fall in Love With Escondido Schools", held on February 8, 2019!
Over 150 attendees gathered for an evening of fun-, and fund-, raising!
Many thanks to everyone who made this event a success!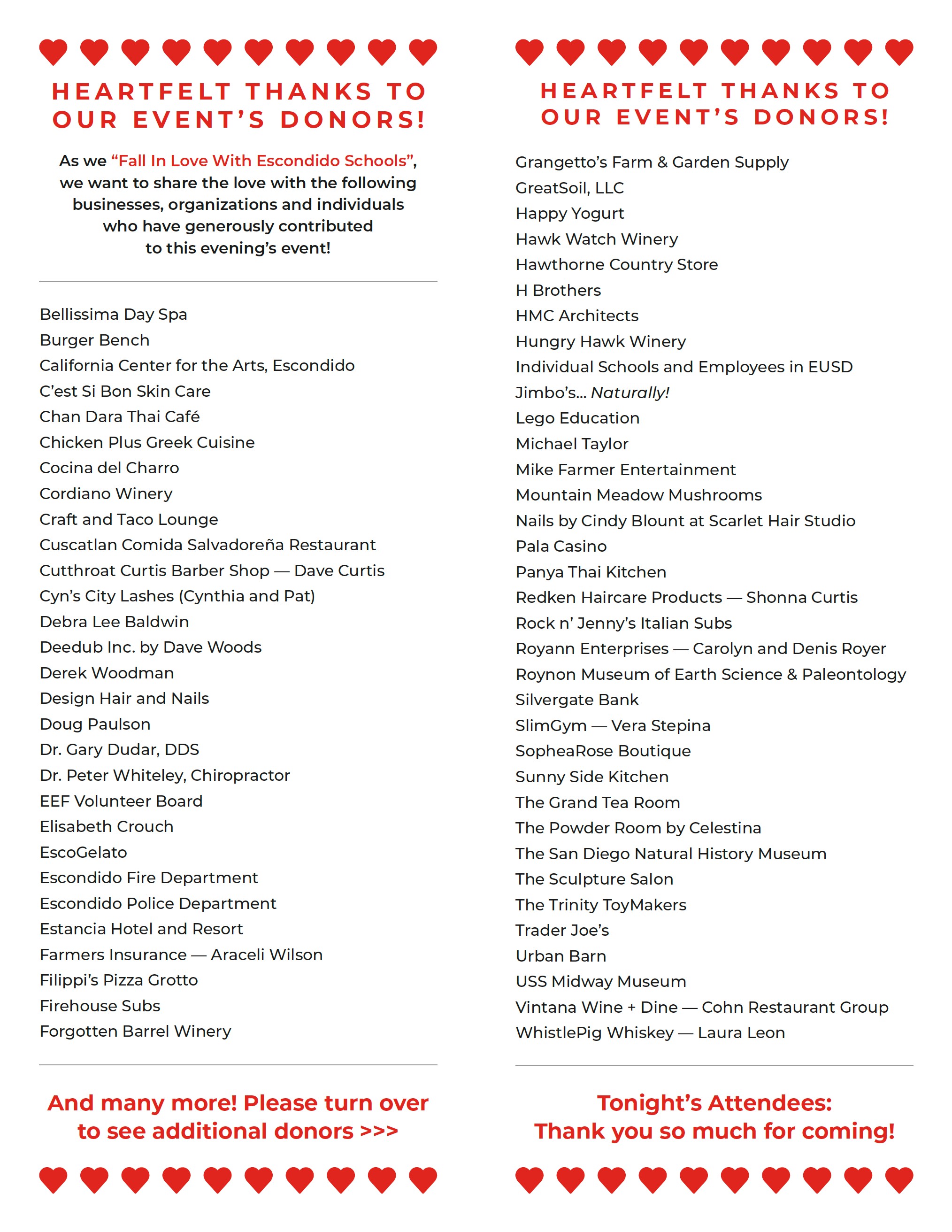 GET YOUR TICKETS TODAY AND JOIN US FOR THIS FASHION SHOW!